Your Calling Card on the Web
Today someone who wants to connect with you will look you up on the web, not in a phone book. Websites represent businesses, nonprofits, projects, campaigns, artisans, and private individuals. Your website provides your visitors with information and services. And it expresses your identity and your mission through content, imagery, and site architecture. When someone tries to connect with you on the web, will they find you there?
We've got more than 10 years of experience designing and building websites and writing web content. Large sites and small, all demand good design. Our design ideals of logic, elegance, and impact will deliver the beautiful and effective solution you need.
Our web services meet the high standards, and the tight budgets, of independents and nonprofits. And we reward our repeat customers. Learn what we can do for your website.
The first review of your website home page is a free review that will give you solid improvement tips you can walk away with.
---
Live Website Designs
Visit each of these live websites designed by John Clay of River House Arts. Then come back to the live site you're on right now and see how you can get a website of your own.
JRH Marketing Services offers qualitative and quantitative market research and consultation, with a focus on communicating messages to diverse demographic groups in the US and internationally. Partners Bob and Lloyd Harris wanted colors and imagery to reflect both the diversity of their clientele and the serious professional character of the company. I designed their corporate logo first, then the website.

JOBS NOW Coalition is a Minnesota research and policy coalition dedicated to promoting jobs that pay a family supporting wage. Their research and policy work touches many facets of the state economy, so the website's information architecture had to be flexible and scalable enough to accomodate any new content areas that might arise. They already had a logo—two different logos in fact. I helped them choose the more visually striking logo and then applied the logo's colors to the site's visual design.

This is a project of my own, dedicated to renewing the promise of democracy in America by building on the strength of America's founding principles. The site's red, white, and blue looks fresh and colorful and echoes the colors of the atmospheric logo. I created the logo from one of my own aerial photographs. Small photographic images in the left menu bar create visual interest while also serving as signposts telling you which section of the website you are in.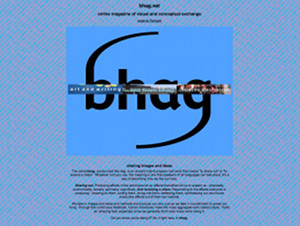 This is another project of my own: an online magazine for art and writing from contributors around the world. The logo and the visual design reflect the creative and innovative nature of the site. The information architecture organizes a wide variety of content types into intuitive and easy-to-navigate categories.

Thinking of getting a new website, or updating your old one? Here's how.